MAPLE STREET CHURCH began as the Maple Street Chapel of the United Evangelical Society on March 26, 1894. The occasion for this was a division in the Evangelical Association and the difficult decision made by members of several Evangelical communities in the lancaster area to separate from the main body and thus lose all claims to property. They went on to purchase property that is currently 126-128 North Maple Street and established the chapel there.
In 1922, the branches of the Evangelical Association reunited, and the Maple Street Chapel was in the process of building a structure across the street when a fire broke out in the Chapel. Nonetheless, the new building was completed and dedicated as the Maple Street Evangelical Church.
Now as the Maple Street United Methodist Church, this congregation seeks to be a good neighbor through its community ministries, and a center for spiritual growth through its education and group ministries.
CHURCH MISSION STATEMENT
Maple Street Church is a Christ-centered family equipping and empowering young and old for passionate worship and service while building relationships to make a difference in the lives of others.

CHURCH VISION & VALUES
The vision for Maple Street Church is to provide ministries which feed the body and the soul while connecting families to Christ.

Families in our community are attracted to Maple Street as we offer opportunities to celebrate and serve children, youth and their families.

Through small group experiences, passionate worship and faith forming relationships, Maple Street supports families on their journey of faith to become growing disciples of Jesus Christ.

LIST OF PASTORS
(Trinity Evangelical Chapel)
1870-1871 Arthur Swartz

1871-1872 Abe Leohner

1872-1875 Andrew Swartz

1874 E.C. Turner
1875-1876 Noah Shupp
1876-1877 Hiram Spitler
1876 J.A. Hensel
1877-1880 S.E. Rife
1880-1882 W.W. Sherrick
1882-1885 D.C. Eckerman
1884 L.W. Hankey
1885-1888 Josiah Wengerd
1888-1890 W.W. Sherrick
1890-1894 W.S. Harpster
(After the denominational split in 1894,
The Maple Street United Evangelical Chapel)

(After the denominational reunion in 1922,
The Maple Street Evangelical Church)

(After merging with the United Brethren in 1945,
The Maple Street Evangelical United Brethren Church)

1953-1961 H. Eugene Flowers
(After merging with the Methodists in 1968,
The Maple Street United Methodist Church)

1980-1989 F. Raymond Sharritts
1989-1996 Larry G. Swaisgood
1996-2006 Donald C. Meadows
2012-2018 Phyllis R. Fetzer
2018-???? Kevin M. Chambers
STAFF: (excuse us, this section is under construction)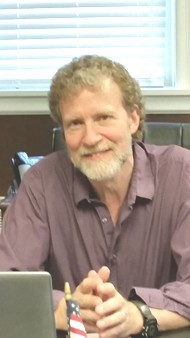 Pastor since July, 2018 (From the July 2018 Maple Leaf:)
Dear Maple Street friends and fellow ministers,
I know it's what you expect to hear (or read), but really I am honored and humbled to have the opportunity to be your pastor. I know I am stepping into a place where the hand of God is already working, and I hope to walk alongside of you in the journey and do my best to stay out of the Spirit's way. I will probably have a lot more to say about where I am already sensing the working of the Lord, because I tend to talk a lot. But I thought I would try to make this short, and give you some helpful biographical information.
I am 57 years old… according to my daughters I was over the hill at 30, so I have been sledding downward for about half my life now. I am married to Sue and we have four grown daughters, three of whom married in the last 5 years, and the fourth planning to be married in September 2019. We wish we would have the previous wedding paid off before that one, but that's not likely to happen. I have no grandchildren yet, because my daughters want them, and everyone knows children don't come when you want them. Sue has put up with me in marriage for 31 years (this might be entered into the next dictionary under 'saint'); I don't know how she's done it, each of my daughters was out of the house before she was 20 (I know, if we can ever figure out how we managed that, we can write the book and make MILLIONS).
I've been an ordained pastor for 31 years, but as a preacher's kid I've been in church all my life. I moved to Toledo at age 1 (because they either didn't ask me, or they didn't understand what I was saying). The church that I left when I was four years old is now closed (not my fault!). The next church I had to leave when I was eight years old because it closed (ok, a little suspicious, but still not my fault!). After school at Ohio State and Boston University, they sent me back to Toledo to be a pastor. The first church doubled in size shortly after I left it. The next two churches merged with other churches about 3 years after I left. Then they sent me to Columbus to see what I could do there. The first church I served there is still going, but the second closed its doors last year, though about 12 years later than most people thought it would. So that's probably more than you wanted to know about my 31 years of pastoral ministry.
I am excited to get to know Lancaster. I do have relatives here, but I don't know if they will admit to that, so I can't tell you who they are. I haven't seen them in 35 years, so if I wander onto their property they might not put down the rifle. Back then my cousin told me, after he found out I was going into the ministry, "Whenever I see one of the pastors here, I ask him, why is it I only see you hanging around the good people? I thought Jesus hung around with sinners, like me… Now, whenever they see me, they just cross to the other side of the street."
I am much more interested in getting to know you than this stuff about me. I know a little about some of you through your Lenten Devotional (loved it! – I am still re-reading). I believe that God knew what He was doing when He placed you here, and I am grateful for everything He is doing for me in putting me here with you. (And this is the shortest newsletter article I have written in 30 years.)
Yours in Christ,
********************************************************************************************************************************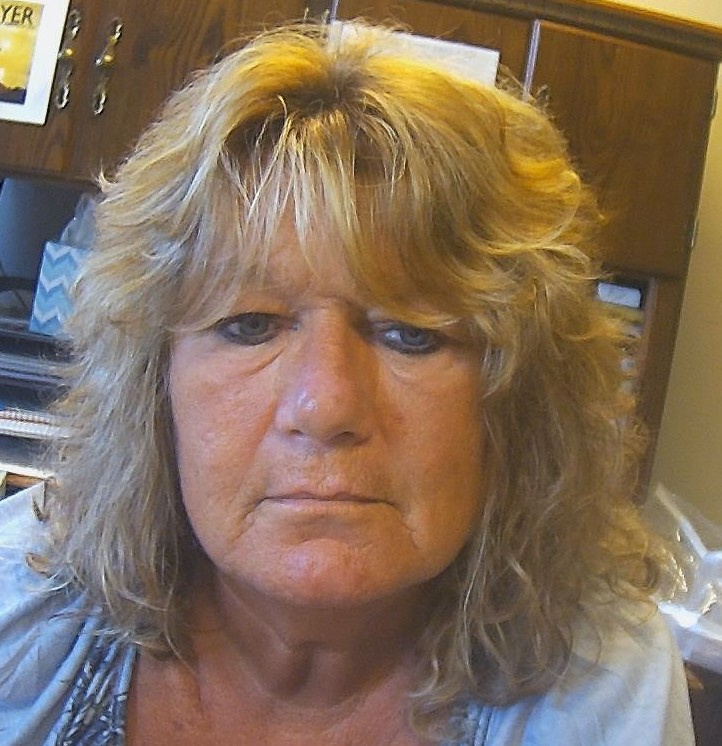 Martine Tavakoli has been our Office Manager since June 22, 2020. Martine graduated from Lancaster High School and moved back to Lancaster after completing her college education at American University and living in the Washington, D.C. area during the last 40 years. She has returned to help care for her mother and is grateful for the time she now has to spend with her.
Martine has two grown daughters living in the D.C. area. One has recently become engaged, and Martine is looking forward to helping with wedding plans. Her interests include: golfing, gardening, reading (thrillers or romance), football (Crimson Tide & Washington - but we hired her anyway), relaxing in a pool, dogs (though she does not currently have one of her own- would like a Great Dane). Her favorite vacation spot: Puerto Rico, her favorite job: working in a huge kitchen in D.C. to feed the homeless, her favorite restaurant: Mexican, and her favorite desserts: Tiramisu or Crème Brûlée.
​​​​​​​
************************************************************************************************************************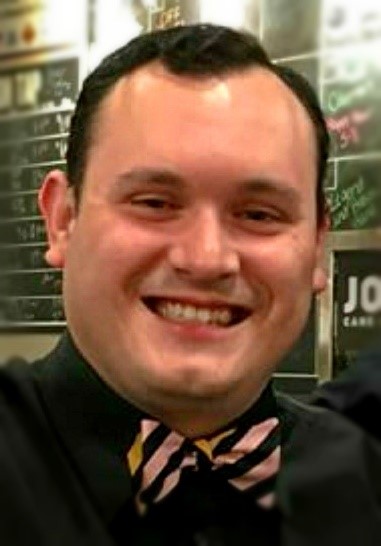 Billy Edwards is excited to be the Music Director at Maple Street. Billy is a lifelong Newark resident who has always loved music. He enjoyed being in multiple bands and choirs, and occasionally in the orchestra and theater. At Newark High School he sang in his first barbershop quartet, Premium Blend, who won 'Best Group' at the high school talent show multiple times.
Billy went on to study trumpet and vocal music at Alderson-Broaddus College in Philippi, WV. He plays trumpet at area churches and theaters and in a brass quartet. He has sung with the Lancaster Chorale the last thirteen seasons, and belongs to national music organizations Phi Mu Alpha Sinfonia and The Barbershop Harmony Society. Billy has previously been Music Director at Bremen United Methodist and an Assistant Director and Section Leader in many other groups. Rumors were that in his free time you might find him square dancing.
Billy was very fortunate to find and marry Cassie (Kilbarger) Edwards. They now live under the rule of their young son Samuel.
************************************************************************************************************************
Accompanist:

Chuck Kirkpatrick
Chairperson, Administrative Council: Kathi Boyer
Lay Member, Annual Conference: Joyce Melick
Alternative Lay Member: Marion Sherwood
Charge Conference Secretary: Sandy Williams
Chairperson, Finance: Rick Combs
Chairperson, Trustees: Bill McBroom
Chairpersons, Missions: Kaye Russo & Joyce Melick
Chairperson, Worship: Becky Francis
President, United Methodist Women: Dennice Mattlin
Coordinator, Community Kitchen: Kay Rollins
Coordinator, Free Store: Dennice Mattlin
Financial Secretary & Endowments/Memorials: Carolyn Starner
Legal Advisor: Rick Snider